American Apparel Photoshop Fail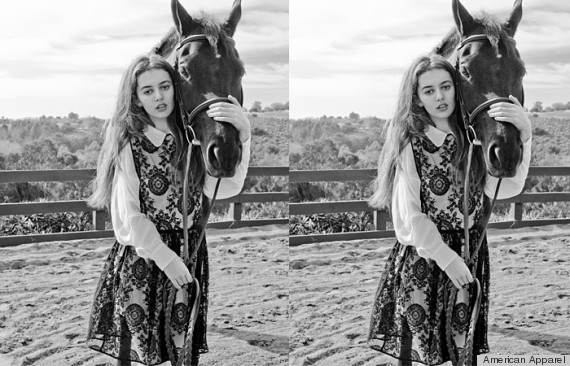 (Photo Via: American Apparel)
"I have no leggggs," said the horse! American Apparel's latest advertisement features a young woman holding a horse without a body, and it's really noticeable. #Photoshopfail Part 10. (Via: PS Disasters)
Chris Brown Releases Video About Karrueche Tran + Rihanna Love Triangle
(Photo Via: Sheisdiva)
We're pretty much over judging Rihanna and Chris Brown after this, and this, annnnnd this. But Chris Brown is just annoying these days, releasing a totally fake video last night in which he 'drunkenly' explains his 'love triangle' between Karrueche Tran and Rihanna. In one minute,  Brown questions 'Is there such thing as loving two people' and then decides 'I don't know if that's possible but for me I just feel like that.' And the funny thing is a) people believe this nonsense and b) media sites (like us) cover it! Guess we're back to judging. Watch Chris Brown's confessional here.  (Via: TMZ)
Shame On The Boy Scouts!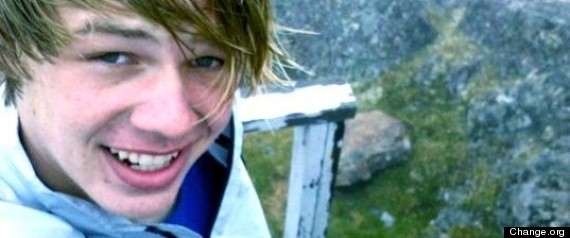 (Photo Via: Change.org)
As part of an Eagle Scout project, high-schooler Ryan Andresen built a 288-tile wall of tolerance for a middle school in California, intended to provide comfort to victims of bullying. But according to Andresen's mother, the senior's award will not be approved because Ryan is gay. Unfortunately, this isn't the first time that the Boys Scouts of America has been accused of intoleracnce toward gays. (Via: Huffington Post) 
Kanye West Deletes His Twitter Account 
(Photo Via: Kanye West Twitter)
WHO ELSE CAN WE TURN TO TO PROVIDE CAPS LOCK RANTS ABOUT FASHION AND HIP HOP?! Sigh.
Obama's Campaign Building Vandalized 
(Photo Via: Getty Images)
President Barack Obama's campaign building in Des Moines, Iowa was vandalized Wednesday with the phrase "Muslim Lier" spray-painted onto a large banner. 1. Hate like this is so upsetting. 2. Contrary to what 34% of conservative Republicans believe, Obama is not Muslim.  3. Whoever did this vandalism needs spell-check, STAT! (Via: Huffington Post)
Anna Dello Russo For H&M Is Double The Price on eBay
(Photo Via: H&M)
Seems like Anna Dello Russo's fashion showers video generated more buzz than the collection itself. Unlike past collection collaboration launch dates (Lanvin, Versace), there was no line wrapped around H&M locations and according to Fashionista, fashionistas were only calmly shopping the Dello Russo approved accessories ranging from $24.95 to $299. Despite the lack of fanfare, the majority of Dello Russo's collection has been shopped and found its way onto Ebay at double the price. Looks like there's a lotta selling and no, well, wearing.  (Via: Fashionista)